Following are errors and troubleshooting steps for MobileIron mobile device management (MDM) at CUIMC.
Request Forbidden or Authentication error...
These errors typically occur during initial installation and enrollment. Request Forbidden will appear on an iPhone or iPad, while Android phones or tablets will see Authentication Error...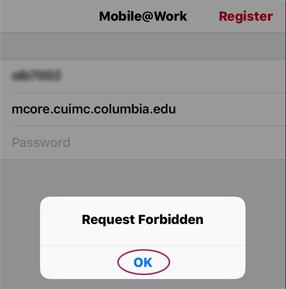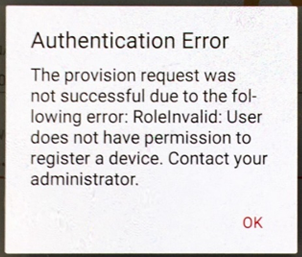 Verify your CWID and password by logging in to https://password.nyp.org
If your CWID is in good standing please email 5help@cumc.columbia.edu to add mobile access to your CWID account. Please put "MobileIron" in the subject line of the message and include both your UNI and CWID account IDs as well as your name.
Device is out of contact with server for ...days
Make sure you have the latest version of the MobileIron app installed:
While your phone or tablet is online, open the MobileIron app on it (tap it from your list of apps).
If it immediately asks for your username, you can re-enroll by following the instructions for:

In the app's settings choose Check for Updates (iPhone/iPad) or Force Device Check-in (Android), then Continue
The device may take a few minutes to check in with the CUIMC mobile device management system and receive any configuration or policy updates.
If this does not resolve the issue please contact your Certified IT Group for assistance.
Your device is out of policy for ... number of days
Please use the instructions immediately above to force your phone or tablet to connect and check for any updates.
Required app not found
Use steps to install and enroll in MobileIron for iPhone and iPad or Android phones and tablets.
Disallowed iOS or Android version found
The version of iOS (iPhone and iPad) or Android on your device is not current enough. The minimum versions approved for CUIMC are iOS 12 or higher, and Android 8 or higher.
Please see instructions to check the system version and run an update for iPhone and iPad or Android.


Profile Installation Failed...
The phone or tablet may have another MDM installed, check for it in our steps to verify and migrate to CUIMC MobileIron.
If you are not sure you can also take a screenshot of the error on your device and email it to 5help@cumc.columbia.edu with your CWID and contact information. The screenshot below is an example only: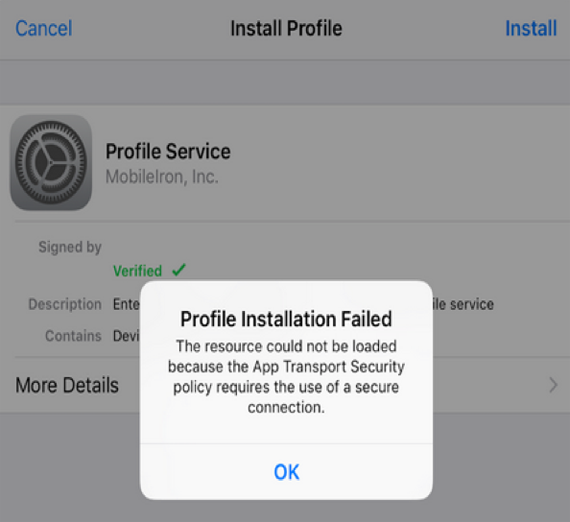 Unable to Connect or Unable to Locate
This error means the phone or tablet is having a problem reaching the MobileIron server:
Make sure you are connected to the Internet (open the device's browser and load a new website such as our home page). MobileIron requires network connectivity.
If not already open, tap Mobile@Work from your list of apps.
Click OK to dismiss any Unable to... messages.
In the Mobile@Work screen tap the server field - on iPhone/iPad it is below the User Name - and make sure it reads:
mcore.cuimc.columbia.edu
Follow any remaining prompts to login to Mobile@Work and connect.
If there are still problems review steps to install and enroll in MobileIron for iPhone and iPad or Android phones and tablets, or contact your Certified IT Group for help.
Apps@Work Didn't Install on an iPhone or iPad
When installing Mobile@Work on an iPhone or iPad, you must enter the device's settings and install a downloaded profile. If this step is missed, Apps@Work will not automatically install.
Enter the device's Settings (gear) icon, usually on your home screen or in the list of apps.
Scroll down to find Profile and tap on it.
Find the Profile Service - New York Presbyterian Hospital link and tap on it.
To complete installing the profile, Apps@Work, and Epic apps continue with step 10 of Installing MobileIron on an iPhone or iPad.