To provide a secure environment, all computers used for CUIMC purposes (whether institutionally or personally owned) must be registered with their IT Custodian, Certified IT Group (CITG), or other responsible person in their School, Department or business unit.
Computers that are not registered may be blocked from accessing the network. You will need to contact your department or division's IT group to have it inventoried and unblocked.
Those that need access to the wired network must also complete a request for an "IP" (network) address as outlined below. Requests can only be submitted by staff who are part of a CUIMC Certified IT Group.
Registration simply means that current contact information and basic details about the system are provided. The information is used for emergency contact if a computer becomes infected with malware or conducts suspicious activity (such as spamming or port scanning) on the network. Systems that move or change ownership must provide updated information as well.
The information below will help if you must prepare your computer and/or collect details for the IP request form to pass along to your CITG staff. Please check with them if you are not sure what steps they will complete for you.
Prior to Registering
In short any system connecting to the network must:
Have received all critical updates and patches for their operating systems.
Have updated antivirus and antispyware programs running.
Be free of viruses, trojans, and other malicious programs.
The network is regularly scanned for malicious activity and infected hosts; systems that pose a threat may be blocked or restricted from connecting. Additional requirements such as setting a password, auto-lock, and running regular backups can be found in the University's Registration and Protection of Endpoints policy.
Required System Information
Be sure all details you provide are accurate. If not, the system may not connect properly and the request will need to be submitted again.
The type of device and its operating system. See What OS does my computer use? for help if needed.
The Hardware/MAC (Media Access Control) Address - a unique set of 12 characters that is hard coded on every network interface card (NIC). Steps are on the Find a Computer's Hardware Address page, please follow them carefully and be sure you are providing the correct set of characters.
The jack or data port label - the port where a network cable can be "plugged in" should be labeled, see below for help. Some ports may not be active or may be configured for specialized equipment; having the label information allows network staff to verify that it is ready to be used.
By default computers are given a local IP address that is automatically or "dynamically" received (see steps to set this on Windows or Macintosh). This works fine for general research, business, and academic use of a computer. If a public IP address and manual/static addressing is needed for advanced technical purposes, CITG staff can submit the Wired Registration Public IP request form. Note that additional procedures for System Registration may be required.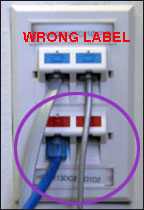 Finding a Jack Port Label
"Jack" or Data Ports are labeled within their wall plate, immediately adjacent to the port. This is where the system's network cable is plugged in. The wall plate may also include ports for a phone.
Jack ports for a computer will typically be red or orange, as shown in the picture to the right. Blue ports are NOT for data connections; these are phone connections only.
Valid jack port labels will start with a campus building abbreviation and end in "D1", "D2", etc., with the last two digits indicating the different data ports on the individual wall plate.
Please make sure you are submitting the correct, full string of characters for the individual data port that will be used; submitting incorrect information could delay the request. The characters on the labels are not case-sensitive.
Registration Forms
IP related requests can only be accessed by staff in a Certified IT Group. The forms are listed under Submit a Service Request on this page or can be found in the Service Catalog.
Wired IP Requests - to register a computer or other system for the wired CUIMC campus network.
Additional Wired IP Requests - for already registered systems that are changing location, ownership/primary user, getting a replacement network (NIC) card, etc. Please also submit this Wired IP registration disposal or removal from campus if a computer will no longer be used on the network, so we can accurately track available addresses and connectivity on campus.
Network Port Activation - to have an existing data port made active.
Related request forms that anyone can submit include Computing Relocation (configuring computing equipment that is being moved within the CUIMC campus) and Network Port Installation. ARC billing information may be required.
Once the form has been submitted you will see a request number, please note this for your records. Within a few business days of submitting the form you should receive email confirmation that your IP request was processed and your newly registered system will be able to connect shortly afterwards.
Read the email confirmation closely as it will let you know whether the systems should remain dynamic, using DHCP to connect to the network (this is the default setting on most computers), or if it will require manual configuration of a network address. Most systems connecting to the CUIMC network should be set for dynamic or DHCP configuration, for help see our instructions on Windows or Macintosh. The network automatically refreshes its list of approved MAC addresses throughout the day, so it may take a few hours after receiving your confirmation email before your system can connect.