If you are no longer using the same phone or tablet with CUIMC Duo Multifactor Authentication (MFA), or you need to use a different method to authenticate (for example, using the Duo Mobile app to accept a push notification or get a passcode while offline, instead a phone call or text message), you can typically manage changing any device or authentication method without having to contact us for assistance.
Note that these FAQs and more can be found on the main CUIMC MFA website.
How do I change or manage my Duo devices and options?
Sign in to the enrollment form and use links in the left to Add a new device or manage My Settings & Devices.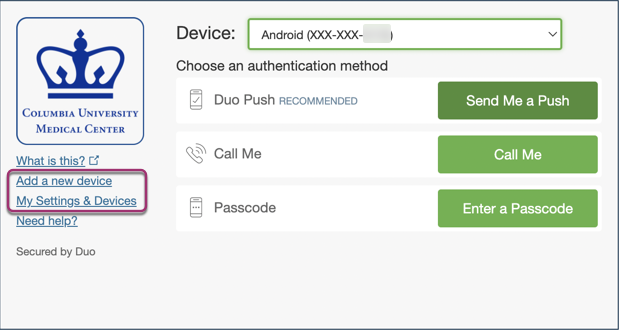 You will need to authenticate (approve via a Duo method) before you can click the links; even if you are not sure whether you can authenticate in Duo please try the steps here - in most cases you will be still able to change your device(s) and authentication method(s).
IMPORTANT: If you enrolled for Duo when signing in to Office 365 and are not eligible to use CUIMC VPN (you will see a "Not Qualified" error when using the enrollment form), instead please sign in to an Office 365 portal or app, such as Web Outlook, and select the Manage Devices link at the bottom of the Duo prompt. Full steps are on Duo's website.
Log in to the CUIMC Duo enrollment form.
NOTE: If you only have one or a default authentication method for CUIMC Duo and you can't use it currently, click Cancel in the status message at the bottom.
The Device field at the top shows either your default or only enrolled device.


If it lists a phone that you no longer use, but your current phone has the same phone number (the last 4 digits will appear in the Device field to verify), you can:

Call Me - Duo will dial the phone number, answer and follow prompts to approve.
Enter a Passcode (the current phone must be able to receive text messages) - Duo will show a banner across the bottom with a link to Text me new codes. Tap the link and Duo will text the phone number with a passcode you can enter on screen, then click Login.

If you set up other Devices (such as a back up tablet, phone, or landline), you can use the drop down menu in the Device field to choose a different one to use this time, then click the appropriate green button for the method you are able to use right now.
If you are still not able to authenticate please contact us for assistance.

After authenticating, you can click the Add a new device or My Settings & Devices link in the left and follow prompts to manage your CUIMC Duo enrolled devices, their options, and any defaults.

If you are on a smartphone with a small screen, you may need to tap Settings to first to see the Add a new device and My Settings & Devices links.
For help with additional steps follow our How to enroll instructions or Duo's general guide.


What if I forget my phone at home and can't authenticate using a back up method or by following the steps above?
Please contact us; we will verify your identity and provide a temporary passcode to use for MFA. Please also take time to Manage Your Devices in Duo so there are back up methods you can use without having to contact 5-Help.
What if I lose my smartphone or tablet with the Duo app installed?
Immediately contact us (212-305-4357, option 5) so we can lock your Duo account to prevent malicious activity, then assist in making sure you can continue to use Duo and the services that require it.