Zoom offers several features which can enhance the security of your Zoom meetings or classes. When using it for public events, please follow guidelines immediately below to prevent disruptions such as "Zoom-bombing". Examples of public Zoom events would be meetings and webinars that CUIMC markets and makes available for external attendees to attend.
For public meetings:
A moderator should be assigned to remove disruptive attendees
Join before host should be turned OFF
Mute participants upon entry should be turned ON
For public meetings and for webinars:
Password protection is required
The ability for participants to screen share should be set to Only Host – panelists will still be able to share if they are made co-hosts during webinars
Upon scheduling these webinars, please require registration as it will allow the webinar organizer to vet each external registrant to confirm valid name and email addresses
These settings should be turned OFF

File transfer
Annotation
Allow removed participants to rejoin
Chat
Following are detailed steps for setting various security features in Zoom.
Using Passcode Protection
At the Medical Center, all meetings and webinars require the use of a passcode to ensure that no uninvited guests can gain entry.
Sign in to Zoom and select Meetings from the menu on the left side of the page.
Select the meeting that needs a Passcode and click the Edit button that appears.

Scroll down to the Security section of the meeting's details and check the box next to Passcode. Zoom will add a randomly generated passcode in the field, or you can type over it to choose your own.

Scroll to the bottom of the window and click Save to update your meeting's settings.
For more help see Zoom's Meeting and Webinar passcodes.
Disable Allow Participants to Join Anytime
Zoom provides the option to control whether participants will be allowed to join before the host, i.e. anytime.
If Allow participants to join anytime is not selected, participants will not be able to join before the host.
If it is selected, the host will receive an email notification when the participant joins before them.
For more help see Zoom's Allow participants to join before host.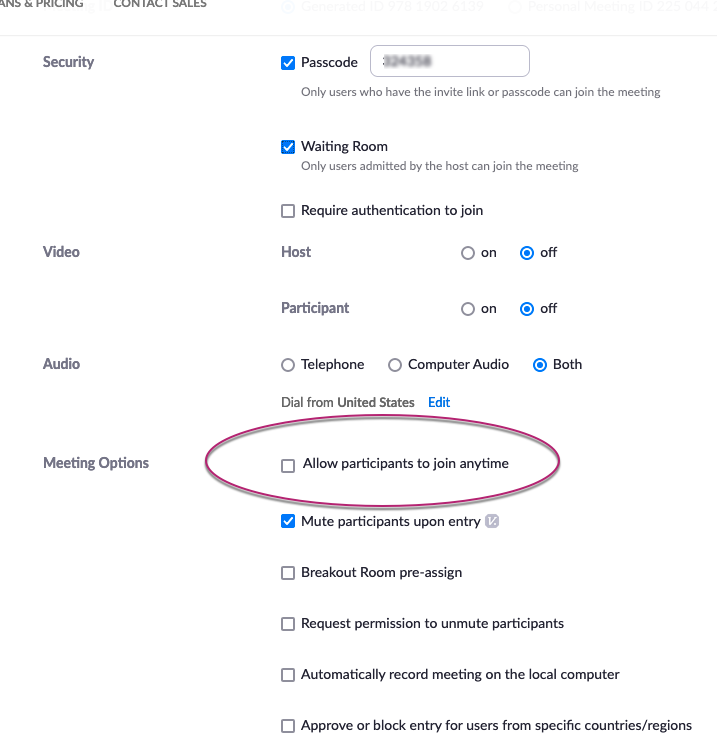 Using the Waiting Room Feature
The Waiting Room feature allows hosts to enhance privacy by keeping participants from one meeting separate from the next. This feature can be enabled by default at the account level or enabled on a per-meeting basis. See Zoom's Waiting Room page for more information.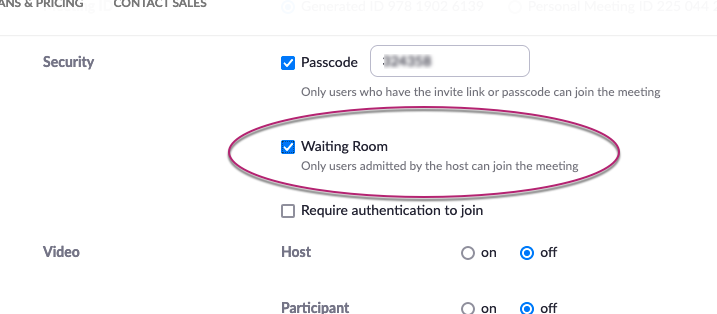 In Meeting Features
Lock the Meeting
Lock the Meeting functionality enables hosts to prevent additional participants from joining even if they have the meeting ID and password. To lock the meeting after it has begun, select Security and Lock Meeting as shown below.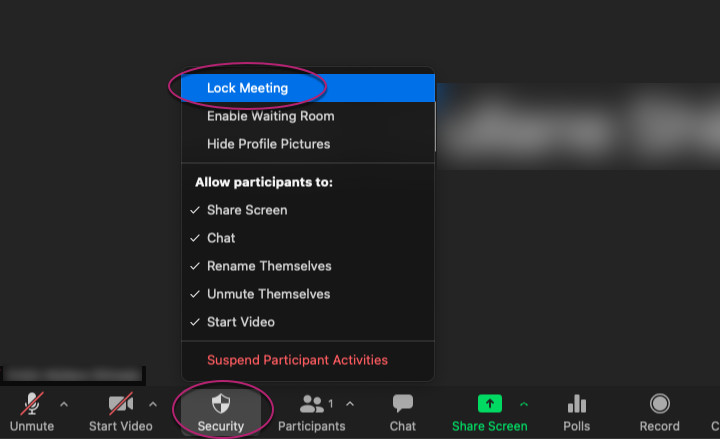 This can also be reached when in a meeting by selecting More from the bottom of the Participants list.
Remove a Participant
In the participants menu, if you hover over a given participant's name the option and click More, then select Remove, the selected participant will be removed from the meeting. If you lock the meeting after this, they will be unable to rejoin.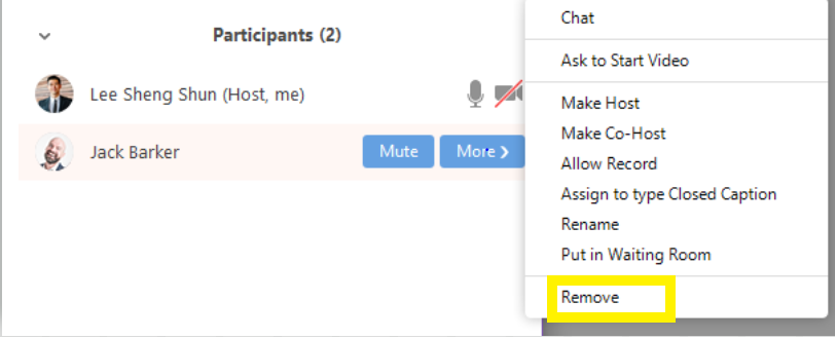 Attendee on Hold
Zoom allows Hosts to place attendees on hold when needed.
To do so, click Participants at the bottom of the screen, hover over the camera icon next to the person's name, click More, and then select Put on Hold.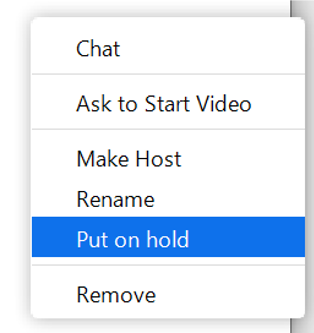 Participants on hold will see a screen notifying them that they are on hold. Additional details are on Zoom's Waiting Room.
Additional Security
Zoom also offers hosts the ability to lock screen sharing, enable or disable participant recording, disabling chat, and other features such as watermarking screenshots. Please see Zoom's Security and Privacy pages, or general information on features and settings at: https://support.zoom.us/hc/en-us.