Technology Project Proposals
Proposals in this context are defined as special requests that are not already represented in our support pages.
The CUIMC IT Project Management Office (PMO) uses ServiceNow to collect and review ideas for technology-related projects. Anyone may turn in a proposal using the Submit an Idea form linked under Submit a Service Request. "Idea" is the term used in ServiceNow to track proposals as they flow through the project management process.
| Is my request considered a proposal? | Yes | No |
| --- | --- | --- |
| Do you have a business problem that you think IT can help solve? | Proposal | Please contact us |
| Are you exploring a new application that you want IT to help evaluate? | Proposal | Please contact us |

A proposal can also be submitted for the following reasons:
A department has a project for which they request assistance coordinating one or more of the following:

Third-party vendor agreement
Business Associates Agreement
Software or hardware requirements
Hardware purchases (desktops, Aruba devices, etc.)
Integration with Epic

When submitting an request to implement a new software or software integration with Epic, please use the CUIMC IT PMO Request Document (Excel file), which has suggested information to include in the request and can be attached at the time of submission.

Columbia has deliverables and responsibility in the success of a tri-institutional project (example, Front Door to Care related software/hardware need).
Projects that affect multiple business units or involve multiple sites/locations
Projects that carry high risks (high risks will be those involving sharing of data, integration of systems, projects that will incur a large expense, systems that will be on the network, etc.)
Projects that involve services with multiple service dependencies
Projects that involve multiple sites/locations
Projects aligned with the organizational strategic vision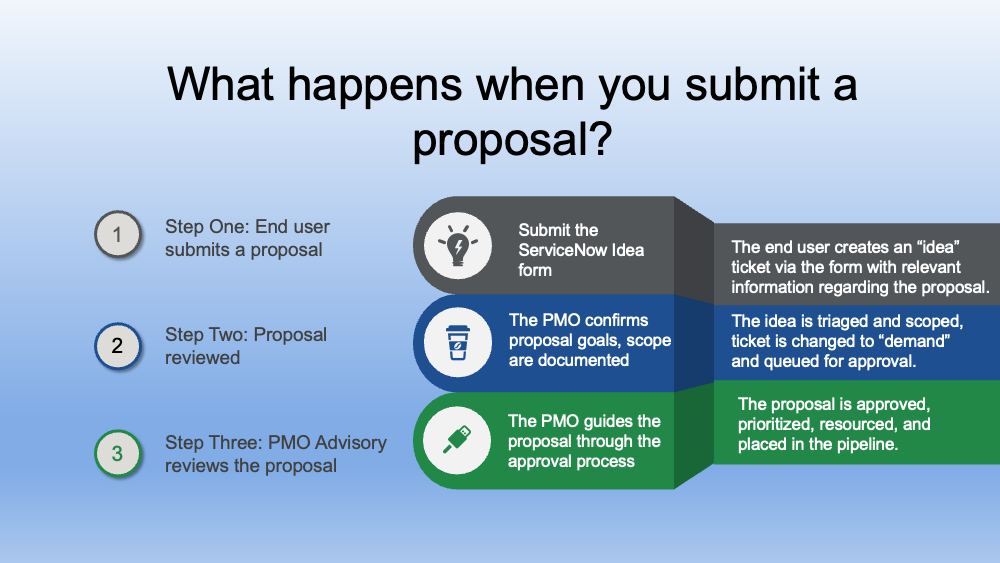 What is the proposal process?
Use the Submit Idea form linked under Submit a Service Request on this page to describe the business problem, need, or opportunity.
The form logs the idea in ServiceNow and someone from the PMO will contact you to get additional information.
The idea then is presented by the customer or Certified IT Group (CITG) lead and reviewed at a Technical Steering Group (TSG) meeting. This allows the larger IT and CITG community to discuss tools already being used that may meet the need, and other groups having a similar need to join in on supporting a future state solution.
The architecture team then reviews a proposed solution to make sure it will work in our environment and not be blocked or incompatible with other services.
Security then reviews the proposed solutions to ensure that no data will be at risk. A BAA may also be needed and so the effort will be referred accordingly.
IT Finance then reviews the proposed solution to understand cost and licensing.
IT Support then reviews to ensure there is knowledge and documentation for the Service Desk and Desktop Support, and that resources are available to support the solution.
The application portfolio is then updated so the new service is clearly documented and other important considerations like disaster recovery planning and license tracking are considered.
Finally, the service is made available as a supported offering.