About Network Drives
Network drives offer:
This page discusses CUIMC IT provided network drives, often referred to as "O" and "P" drives.
Students at CUIMC should refer to Network Drives for Students
OneDrive for Business is available to those with current CUIMC email/Microsoft 365 accounts. Note that OneDrive should not be used as a replacement for network drives. Please make sure you have read all User Responsibilities on the OneDrive at CUIMC article prior to using it.
Network Drives and MC Domain Accounts
Faculty and staff should be automatically connected to any approved network drives when logging in to your department owned/managed computer with your MC domain account. The login or username has an automatic "mapping" or connection to that drive, based on the access that has been granted to that particular login.
Access must be requested via the Add or Modify Network Drive Access form, linked under Submit a Service Request on this page. Any requests must be approved by a DA or higher level person in the department that owns the network drive.
NOTE: Some departments and computers log in to domains other than MC. Look at your computer's login prompt to see what domain you use: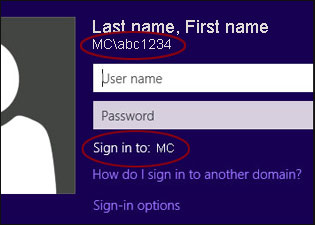 Windows sign in prompt
Find the line below the Password field that reads Log on to: or Sign on to: to see the name of the domain; for additional help see this article. If your department has its own IT staff providing desk side support, check with them for account and drive information. CUIMC IT staff often do not have access or information to assist with non-MC domains and drives.
Connecting an Off Campus Computer to a Network Drive
If you are using a computer that is located off site or has not previously logged into the MC domain, you can manually map that computer to a network drive. To do this successfully, you must:
Have a working domain account that has access to the desired drive.
If you are not sure of this, test ahead of time by logging in to an on-campus computer with your account and see if you can access files on the drive, or check with a supervisor or DA and call the Service Desk to verify. Access can only be given via the Add or Modify Network Drive Access form.
Know the network drive's path.
You can either contact your IT support staff for this information, or see links to Find a Network Drive's Path below. Use instructions for the type of computer that is already connected to the desired network drive.
Have VPN configured and working on the off site computer.
Map the computer to the network drive (see links below for instructions).
Related Information
Connect to a CUIMC Network Drive (Windows and Macintosh) video tutorial