Set Up a Macintosh Computer to Print to Pharos
Macintosh computers can be configured to send print jobs to the Pharos printing system at CUIMC. The downloads will install both Pharos and the printer drivers for the current printers on campus. Follow the steps below or see our video tutorial.
To install Pharos you must be logged in to your Mac with a User account that has Administrator access.
If your computer is running an older version of Pharos or one that has become corrupted, please follow the uninstall instructions before installing the current version.
Note: Macs with macOS 13 Ventura may see a pop-up: "Notify is damaged and can't be opened" after installation. To fix this issue, please see Troubleshooting below.
Download the CUIMC_Pharos-9.0.11.pkg (installation) file for Macintosh.
If prompted, Save the file(s) to the desired location on your computer. It can be deleted once the installation is completed.
Double-click or ctrl-click on the downloaded CUIMC_Pharos-9.0.11.pkg file. The Install CUIMC Pharos window will open.
NOTE: If you see a warning about an unidentified developer, please follow the steps on Apple's website to Open a Mac app from an unidentified developer.
Select Continue to begin, then Continue again to pass the Read Me information.
Make sure your Macintosh HD is selected as the installation destination, then click Install.
When prompted type in the admin password or biometric for your computer, then select Install Software.
An installation was successful message will appear when done, select Close to finish. The installer (.pkg) file can be deleted from your computer.
Verify that your Mac has the printers installed and updated: Open System Preferences (click the Apple icon in the upper left) and select Printers & Scanners.
Both CUIMC B&W and CUIMC Color should appear in the left Printers list. To test that set up completed properly, send a print job to either of these CUIMC printers and make sure the Pharos Popup window appears.


If you are on campus connected to Mercury wifi or the wired network, you can enter your UNI and click Print to add a job to your queue (if you are not, you will see a "failed to contact" error).
Nothing will be deducted from your Pharos quota until you sign in or swipe your ID at a Pharos printer on campus to print out the job.

Close any popup and the Printers & Scanners window.
The Pharos printer queues CUMC B&W and CUMC Color will now be available when printing from your Mac.
NOTE: Your computer may have set a Pharos printer as your default after installation. To change this, open System Preferences and select Printers & Scanners, then change the Default Printer option near the bottom of the window.
Troubleshooting
To fix " "Notify is damaged and can't be opened":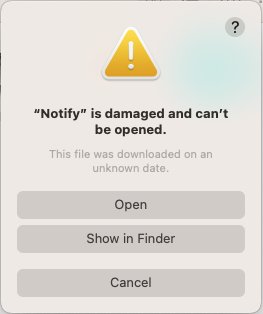 1. In the error message, click the Show in Finder button.
2. When the Finder window opens, right-click on Notify and click to Open. If the Notify error message is still open, click to close it.
3. A message should appear asking to confirm you want to open Notify. Click to Open.
Once this is done, you should no longer receive error messages about Notify.